Pachak Churna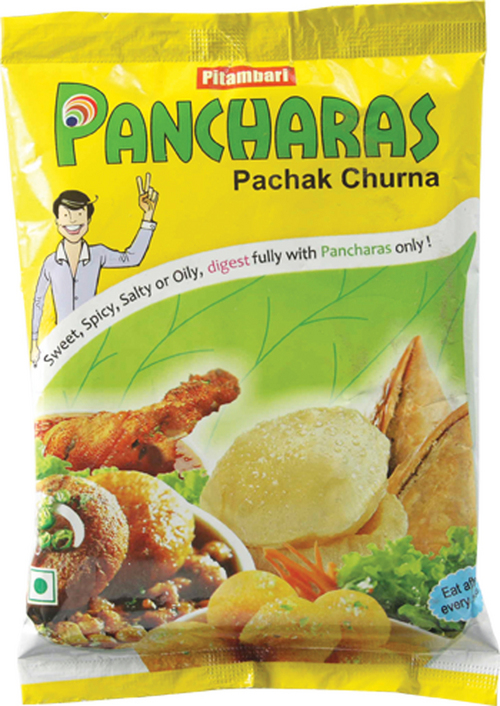 Pachak Churna
Price And Quantity
Product Specifications
Product Description
Pachak Churna is a product by Pitambari products pvt. Ltd, which is useful for healthy digestion process and treat problems like acidity, gas, constipation etc. This churna is made from unique ayurvedic formulation that includes ingredients like fennel, beetle leaf, rock salt, grinded sugar etc. All manufacturing process of this pachak churna is done under the super vision of our experts that meets all standard medical parameters and norms. It is strictly adviced to consume this churna on physician's advice. Pachak Churna is available at highly affordable price.
Additional information
Encourages secretion of five digestive juices in your body

Improves your appetite

Free from side effects
Pachak Churna (Pancharas)

Helps improve digestion, activeness, creativity and eliminates digestion related problems.
Pancharas pachak mukhvas, is a unique ayurvedic formulation of fennel, beetle leaf, rock salt and grinded sugar and moreover, it is free of beetle nut. It encourages secretion of five juices in body which helps in efficient digestion and so, it is named as 'Pancharas Pachak Mukhvas'.
It enhances secretion of following digestive juices -
Saliva in mouth
Gastric juice in stomach
Pancreatic juice in pancreas
Bile juice in bile duct
Other digestive juices and enzymes in small intestine
Balance secretion of all digestive juices helps digestion of all types of food i.e. Chinese, South Indian, Punjabi, Vegetarian or Non-vegetarian. Pancharas, improves digestion and eliminates digestion related problems like acidity, gases constipation etc. It also improves activeness and efficiency.